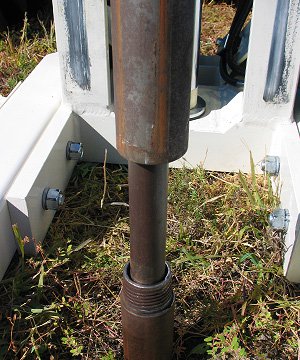 DT22 Soil Sampling System
The DT22 system is the fastest growing sampling system in the industry!
It uses Geoprobe® 2.25 in. (57 mm) OD probe rods as an outer casing and Geoprobe® Light-Weight Center Rods for the inner rod string. Primarily used under the Geoprobe® GH40 & GH60 series machines. The main advantage of sampling through a cased hole is that there is no side slough to contend with. In addition, the outer casing effectively seals the probe hole when sampling through perched water tables. These factors mean that sample cross contamination is eliminated.
DT22 Sampler Specifications & Benefits:
Retrieves 1.125 in. soil cores
Cased borehole for bottom-up grouting
Availability of continuous or discrete soil & groundwater sampling
Liner has integrated core catcher
System allows for multi-tasking in a single borehole (monitoring wells, soil vapor implants, and sparge installations)