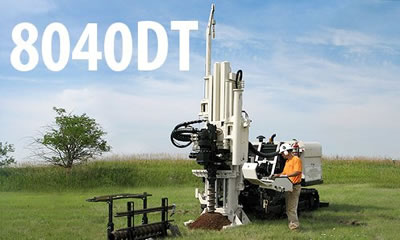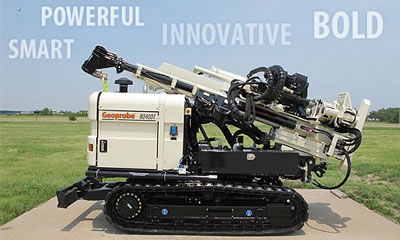 The 8040DT
Muscle. Versatility. Speed. Results.
The Geoprobe® Model 8040DT is a high-capacity direct push machine with a durable undercarriage, hollow stem auger capabilities, and a wide-base platform.
With the GH80 Hammer, this machine is capable of driving 2.25 in, 3.5 in. and 4.5 in tooling in areas that were previously unthinkable.
You just gotta see the 8040DT in action!
Multiple Applications
The Geoprobe® 8040DT arrives with exciting new possibilities, increased power, more versatility, and the push you need to stay ahead of the game!
As with all direct push machines, the hammer is critical to how well the machine performs in the field. The GH80 Hammer on the 8040DT is capable of driving 2.25 in. and 3.5 in. tooling to greater depths in tougher formations.
Designed into the 8040DT is a long list of features. The machine incorporates a two-speed hydraulic top head for classic auger/drilling methods for lithologies not conducive to direct push techniques.
8040DT Specs
Weight (standard machine)
17,500 lb.
7,938 kg
Width
80 in.
2,032 mm
Length (folded)
176 in.
4,470 mm
Length (unfolded)
190 in.
4,826 mm
Height (folded)
99 in.
2,515 mm
Height (unfolded - winch mast down)
153 in.
3,886 mm
Height (unfolded - winch mast up)
232 in.
5,893 mm
Extension (fore and aft)
15 in.
381 mm
Lateral Swing .
±8 degrees
Oscillation
±10 degrees
Vertical Travel (CB8 Combo Head)
84 in.
2,134 mm
Side Shift Travel (CB8 Combo Head)
26 in.
660 mm
Head Feed Speed (down)
32 ft/min
10 m/min
Head Feed Speed (up – no Regen)
26 ft/min
8 m/min
Head Feed Speed (up – Regen)
63 ft/min
19 m/min
Down Force
59,000 lb.
262 kN
Retraction Force
80,000 lb.
356 kN
Percussion Hammer System
GH80
Percussion Hammer Rate
32 Hz
Torque (high torque/low speed)
6,000 ft-lb.
8,135 N·m
Torque (low torque/high speed)
3,000 ft-lb.
4,067 N·m
Rotation speed (low speed/high torque)
0 - 100 rpm
Rotation speed (high speed/low torque)
0 - 200 rpm
Fuel Capacity (diesel)
40 gal
151 L
Engine (diesel)
CAT®, 4-cylinder turbocharged
Engine Power
120 hp
90 kW
Surface Load Pressure (standard machine)
6.8 psi
47 kPa
Hydraulic Oil Reservoir
55 gal
208 L
Hydraulic Flow (max)
100 gpm
379 Lpm
Hydraulic System Pressure (max)
4,000 psi
276 bar
Auxiliary Hydraulic Outlets Flow
0 - 12 gpm
0 - 45 Lpm
Auxiliary Hydraulic Outlet Pressure
3,000 psi
207 bar
Winch Pull Back
2,500 lb
1,134 kg
Winch Line Speed
0 - 140 fpm
0 - 43 mpm
Winch Mast Stroke
63 in.
1,600 mm
Ground Speed
3.0 mph
4.8 kph
*Unit specifications are subject to change without notice.