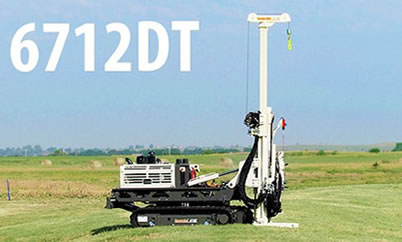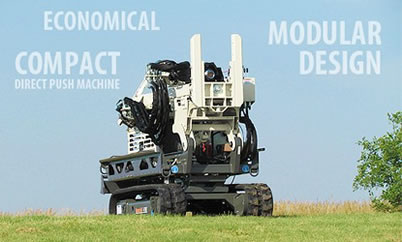 The 6712DT
The Geoprobe® Model 6712DT is an Economical, Compact, Direct Push Drilling Rig and successor to the 6610DT!
Compact & Modular Design
The 6712DT combines the strengths of the 6610DT (such as its Size and Cost Effectiveness) with creature comforts previously only seen in larger machines. It breaks into 3 separate components for easy travel overseas, it is Heli-Portable, and is a snap to put back together again.
Tooling & Accessories
The 6712DT Runs the GH63 Hammer with Single Speed Bi-directional Rotation as well as an Optional GA2500 Two Speed Auger System. The 6712DT can run the following Geoprobe® Tooling Systems:

6712DT Specs
Stroke
66 in.
66 in.
Weight (w/o Auger Head & Mast & Wich)
5,900 lb.
5,900 lb.
Weight (w/ Auger Head & Mast & Winch)
6,480 lb.
2 945.5 kg
Width
52 in.
1 321 mm
Length (folded)
115 in.
2921 mm
Height (folded)
84.5 in.
2 146 mm
Height (unfolded)
153.5 in.
3 899 mm
Foot Travel
30 in.
762 mm
Extension
15.75 in.
400 mm
Down Force
36,800 in.
164 kn
Retraction Force
49,000 in.
218 kn
Hydraulic Pressure (system)
2,500/3,400 psi
172/234 bar
Hydraulic Flow Rate (system)
24 gpm
90 Lpm
Hammer System
GH63
Percussion Rate
32 Hz
Torque (hammer motor)
422 ft. lb.
572 N·M
Rotation Rate (hammer motor)
156 rpm (bi-directional)
Fuel Capacity (diesel)
14 gal
53 L
Engine (diesel)
Kubota, 4-cylinder turbo
Engine Power
44.2 hp
33 Kw
Rear Blade Travel
29 in.
737 mm
Travel Speed
0-2.5 mph
0-4 kph
Surface Load @ 5,900 lb.
4.3 lb./in.2
0.3 kg/cm2
Surface Load @ 6,480 lb.
4.7 lb./in.2
0.33 kg/cm2
Winch Rating
2,500 lb
1 136 kg
Winch Speed
0-110 fpm
0-33.5 m/min
Augerhead Specifications
Torque (high torque/low speed)
2,500 ft. lb.
3 389 N·M
Torque (low torque/high speed)
1,250 ft. lb.
1 694 N·M
Hex adapter
1-5/8 in
41 mm
Rotation speed (low speed/high torque)
0-70 rpm
Rotation speed (high speed/low torque
0-150 rpm
* Unit specifications are subject to change without notice