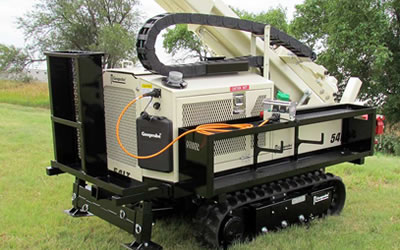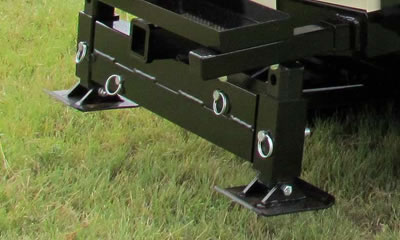 The 54LT Direct Push Machine
The Geoprobe® Model 54LT direct push machine is a rugged, compact probing unit designed for tight spaces and rough terrain. This unit is narrow enough to fit through standard 36-in. doors to get to confined, enclosed places a vehicle-mounted unit can't get to.
Probe Features
Hydraulic lateral swing for easy offset placement of probe
Rod Grip Pull Block ... standard equipment
Two speed pull cylinder standard equipment
Wire remote for ease of manoeuvrability
Geoprobe® limited access
Optional Telescopic Cylinder (8ft clearance running 48 in. tooling)
Auxillary hydraulic ports provide power supply for remote equipment
Emergency stop systems for safety of operation
Rear stabliliser
SPECIAL FEATURE: ASTM and International Standards require that CPT tools be pushed at a rate of 2 cm/second with very little variance allowed. The Model 54LT machine features a Probe Cylinder Speed Control Valve which makes it easy to push at this consistent speed even without a steady hand. Not only will this increase the accuracy of your test while probing, it allows you to pay more attention to your real-time CPT log as you go.
54LT Specifications
Stroke
54 in.
1,372 mm
Weight
2,500 lbs.
1135 Kg
Width
34.5 in.
876 mm
Length (folded)
87 in.
2210 mm
Height (folded)
64 in.
1626 mm
Height (unfolded)
123 in.
3124 mm
Lateral Movement (side-to-side)
9 in.
229 mm
Foot Travel
14 in.
356 mm
Probe Cylinder Diameter
4 in.
102 mm
Down Force
20,000 lbs.
80 kN
Retraction Force
27,000 lbs.
111 kN
Hydraulic Pressure (max)
2,200 psi
152 bar
Hydraulic Flow Rate (system)
10 gpm
38 Lpm
Hammer System
GH42
GH42
Percussion Rate
30 Hz
30 Hz
Torque (hammer motor)
620 ft. lbs.
841 Nm
Rotation Rate (bi-directional)
80 rpm
80 rpm
Fuel Capacity (diesel)
8 gal.
30 L
Engine (diesel)
Kubota, 3 cylinder
Engine Power
22 Hp
16 Kw
Cooling System
Liquid
Liquid
Outrigger Extension
12 in.
305 mm
*Unit specifications are subject to change without notice.