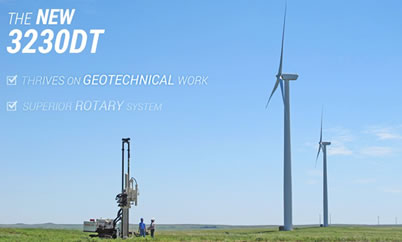 3230DT Rotary Strong & Direct Push Solid
The 3230DT was designed for the geotechnical drilling, with the features needed to excel in the geotech market. Feedback on the 3230DT shows great industry opportunities.
The 3230DT is a mid-size tracked drill rig combining advanced direct push functionality with traditional geotechnical auger/rotary rig capabilities. With a retraction force of 80,000 lb. at the cylinder and 84 in. of travel, the 3230DT can be equipped with multiple winches and a telescoping winch mast allowing the tripping out of 20-ft. sections of tooling.
3230DT Specs
Width
80 in
2,032mm
Length (transport)
198 in
5,029mm
Length (deployed, lateral fully retracted)
200 in
5,080 mm
Height (normal transport)
100 in
2,540 mm
Height (deployed, winch mast up)
286 in
7,264 mm
Extension (fore and aft)
11 in
279 mm

Lateral

±8 degrees

Oscillation

±8 degrees

Drill Mast Travel

25 in.

635 mm

Base Unit Weight

17,000 lb

7,711 kg

Head Travel

84 in.

2,134 mm

Head Down Force

50,000 lbf

222.4 kN

Head Pull Force

80,000 lbf

355.9 kN

Head Sideshift

26 in.

660 mm

Outrigger Travel

26 in.

660 mm

Rear Stabilizer Lift

3,000 lb

1,361 kg

Ground Speed

0 – 3 mph

0 – 5 kmh

Direct Push Hammer Options

GH6400 or GH70

Control Architecture

Manual/Electric-over-Hydraulic

Automatic Drop Hammer, max slug weight

340 lbm

154 kg

Head Feed Pressure Control, w.o.b.

Optional

Hydraulic Systems

Head Down Force

50,000 lbf

222.4 kN

Head Retraction Force

80,000 lbf

355.9 kN

Hydraulic Pressure Limited Pump ( max pressure )

4,000 psi

275.8 bar

Hydraulic Pressure Limited Pump ( max flow )

40 gpm

273 Lpm

Engine

Engine

Kubota V3800 Interim Tier 3 Flex

Engine Power (rated)

99 hp

74 Kw

Fuel Capacity (diesel)

40 gal

151 L

Hydraulic Winch

Line Pull

1,100 - 5,000 lbf

4.9 - 22.2kN

Line Speed

230 - 75 fpm

70 - 23 m/min

7 in Single Clamp Breakout

Clamp Opening

7 in.

178 mm

Clamp Range

1.25 - 6 in.

31.75 - 152 mm

Clamp Force

0 - 17,500 lbf

0 - 78 kN

Breakout Torque

6,000 ft-lbf

8,135 N•M

Weight

350 lb

159 kg
* Unit specifications are subject to change without notice